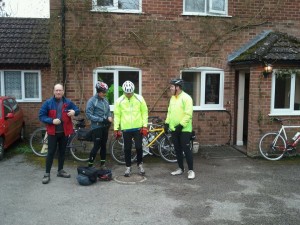 A rather motley crew starting out on day two of the ride. Great pub called The Royal Oak in Wotton Rivers near to Pewsey, we had the run of their B&B house next door. Good food, I had Rabbit Pie, yum!
60 miles to cover during the day, lanes until Devizes which was great as we had been warned that the canal path was very muddy, and obviously it's always like that and isn't part of the cycle route (NCR 4). From Devizes we were back on the canal path, past the great run of locks (although they were repairing some an we had to take a detour) and a very pretty stretch of the route through to Bradford-on-Avon. We had lunch in a pub whose name I can't remember quite close to the canal. Standard pub fayre but good and nice to get out of the cold. No sunshine today so not so easy to keep warm, other than through the effort of cycling.
Several aqueducts crossed, it's amazing the engineering prowess of the Victorians. Also a nice stretch of NCR 24, The Colliers Way, along an old railway line with tunnels and even station platforms still present on the section down to Radstock.
We then set out down the lanes to climb up onto the Mendips, and then spent a hour to do about 3 miles as we suffered a couple of punctures and an overshoot on one turning. Again it was dark by the time we got into Wells to meet up with Isabelle so that Andrew could get a lift off to his skiing holiday.
The hotel in Wookey is new and perfectly serviceable. We showered and went straight over to the Wookey Hole Inn to enjoy a few well earned beers – in this case a fine selection of Belgian Beers and a different range of UK ales. The food was still as I'd remembered it from several year ago, and a great atmosphere. A bit on the pricey side though, at £45 a head by the time we had finished, but as part of a special treat still very agreeable.
The weather for day 3 looks very promising, clear blue skies but still rather cold. It should be a great day out across the Somerset Levels and back to home. Hopefully enough time today fora couple of refreshment stops – we don't appear to have done so well on that this trip!