Finally, the first proper day out with both the trailer and the new bike. I had been waiting for this one for weeks, a chance to experience some proper rough stuff, along with the trailer and 15kgs of baggage. The big question was 'is it possible to drag a touring load over mixed terrain?'. Well the answer is, YES!
I had a little maintenance to do on the bike before I could leave. The rear gearing was not selecting properly – skipping over 2nd and then ending up in 9th with still one extra click in the shifter. I flipped the bike over and wound out the cable tensioner located on the shifter and soon found a happy medium that allowed all gear to selected sweetly. Obviously just one of those job they failed to do in the factory, but not a big issue.
[bikemap 1266013]
I stuck to the roads from home to the Quantocks, basically there are no Bridleways along the route, so not much choice. I did eye up a footpath that takes a shortcut to Fitzhead but decided that it was going to be lots of hassle so decided to give it a miss. I took the lanes instead. This gave me a chance to find out how the Talon deals with roads, and of course its not quick and the tyres add to the drag, but its quite rideable and reasonably comfortable. I'm finding the stock seat to be working out ok as well. Firm but comfortable. Probably depends on how much time you spend perched on it, but today was a good 20 miles and maybe 2-3 hours, plus whatever time I spent doing the 10 miles across the Quantocks, so I think this faired well for other potentially longer trips.
Not much stoppage time today, about 30 minutes for a pint and a couple of other 5 minute stops to refuel, so I was on the move for most of it. Makes for a very low 5 miles per hour average, but hey, its not a race!
At one point I started to feel a slight knock through the crank, and after a little slow peddling and checking for play, I realised that the right peddle was fractionally loose. I was sure I'd done them up tight when setting up, but this one had a slight more to go before fully home, but that was all that was needed to get rid of the knock.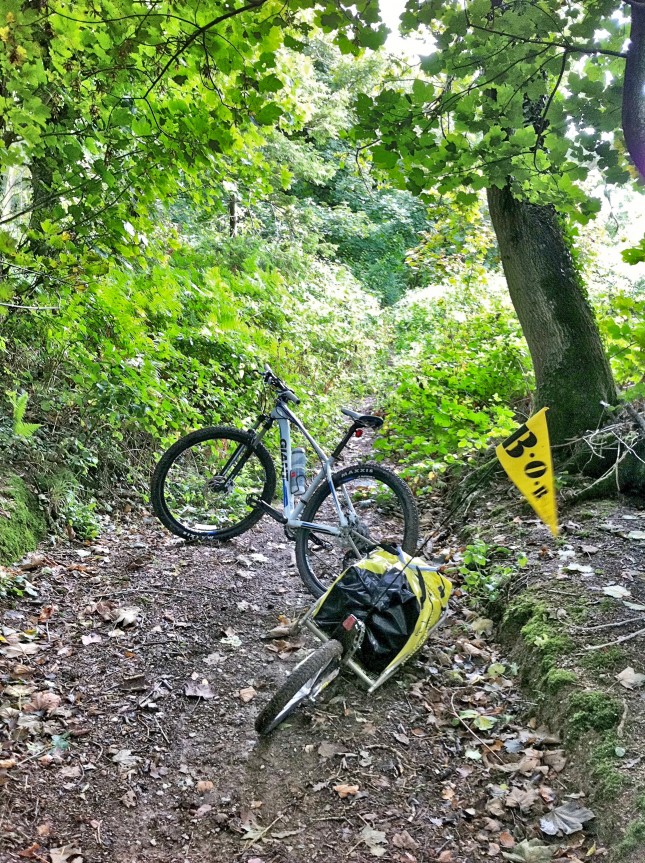 Cothelstone Hill was the first proper off-road challenge, and this really threw it at me. A few hundred metres up the bridleway and I was loosing traction and forced to get off an push. The track got progressively narrower, steeper and more covered in nettles and brambles. It turned into half a mile of pushing, scrambling, dragging and cussing before I could get back on. Several stings and scratches from the undergrowth, but all manageable, apart from a fallen tree that was partially cleared but with lots of branches still on the ground to try and get over. That was something of a struggle, and I was thinking of unhitching the trailer for a bit of portaging but decided to keep going and got through it. Rough Stuffing certainly gives the upper body a work out.
I then had a muddy descent around the edge of the hill (there doesn't seem to be a bridleway to access the summit). At one point I attempted to switch from one rut to another at a fork in the track and nearly came a cropper, scrabbling to a halt but staying upright. Most of the serious climbing out of the way, it was possible to ride most of the rest of the Quantocks without a dismount. Well that should have been the case until I tried changing tracks again to avoid a huge puddle, lost balance as I dipped into the other track and through a water filled dip that was deeper than it looked. The bike ground to a halt but unfortunately I didn't and shot over the bars head first into the dirt, narrowly missing a dunking in another big puddle. I felt a twinge in my shoulders as I'd instinctively put my hands out in front of me as I hit the dirt, so spent a couple of minutes just wandering around to make sure all was well before attending to the bike, which had rotated on the trailer axle such that it was facing in the opposite direction, bottom-to-bottom, so to speak. No apparent damage, save for the fact the derailleur had scrapped past the Bob fork and taken a bit of paint off of both.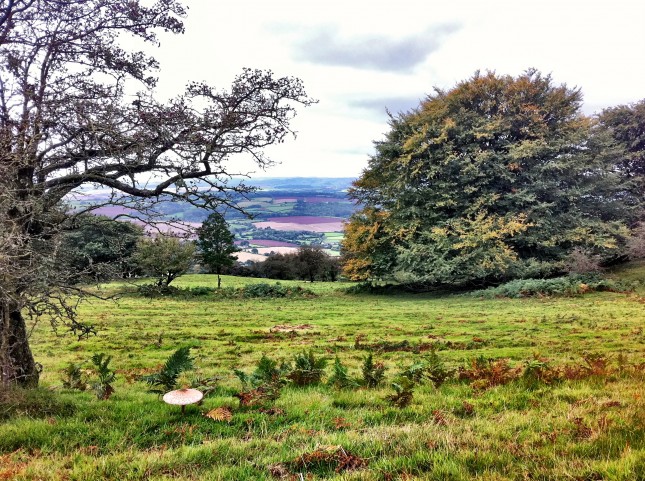 The rest of the ride was uneventful but enjoyable. A bit windy in places on top, and a well earned pint in West Quantockshead before taking the lanes to get back home. Although the mileage for the day was 33, it feels like a lot more. Rough Stuff cycling gives a much better work out than road cycling, and much more varied, which I think is really what I was after. It's nice to be able to savour the view at the end of a particularly energetic climb, and I'd venture that the climbs are almost more fun than the descents!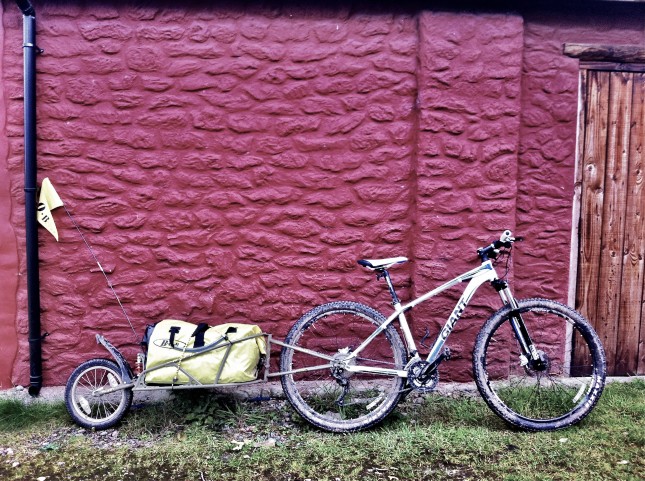 I've taken a membership with the [Rough Stuff Fellowship](http://www.rsf.org.uk) which I'd discovered a couple of weeks ago whilst trying to see if there was anybody else out there that wanted to combine mixed-terrain cycling with long-distance touring. Going by a few of their trip reports, this seems like exactly the sort of thing I had in mind. Unfortunately they don't have a local south-west/Exmoor/Quantocks branch, but maybe there is an opportunity to try and drum up some interest. Most of their organised rides are just day trips, and so no real need to take much gear.
One thing I may well do for my next ride is just take the bike and a backpack so I can appreciate the extra burden of the trailer. No worry, I'm definitely going to stick with the trailer, the [Bob Ibex](http://www.bobgear.com/ibex) is certainly up to the job and handles amazingly well!