A little computer analogy here – but you know when things on your PC are not going quite right, its always a good idea to shutdown and restart (otherwise known as reboot) to see if that makes things better. Well, I've decided its time to do that with my life. I've tried rebooting the computer, but I suspect that I should just be turning it off and doing something more constructive for a change.
To that end, I'm rebooting, reformatting and reinstalling the things that matter. The two most significant changes are that I am giving up my IT Support business, and we've brought a Motorhome to go travelling around Europe over the winter.
### The End of IT Support
Generally I've enjoyed doing the IT support work over the last 5-6 years, but its taken me away from the web design and software development that I also enjoy. At the end of the day, there are only so many billable hours doing IT support, and in a rural community you can't really charge a rate commensurate with the experience and travelling that is necessary. Don't get me wrong, the support work has been extremely useful over the last couple of years since the downturn, as the web and software work dried up, but I'm frustrated not to be able to get back to where I would like to be whilst trying to do a good job on the support work. As a result, I've decided that I can push one aside in order to take a break, reanalyse where I need to be, and then come back to it fresh and reinvigorated. Whilst this might seem a strange decision for anyone doing regular employed work, it is something of a necessity for the self-employed. The employed just decide to find a new employer, the self-employed must take a break and reinvent themselves when they feel the magic has gone.
The decision to switch from IT Support is in now small part down to the frustrations with the technology industry. Windows as a platform has driven itself up a cul-de-sac of complexity that Microsoft will only correct when they start the swallow-dive experienced by IBM in the 90's. My own switch from Windows to Mac was in part to avoid the frustrations, and I now find myself using a 5 year old MacPro and MacBook and not really feeling the need to find something else. They remain powerful and capable of the most complex tasks my work requires, such as image editing and software development. No doubt I'd enjoy a newer machine, but I actually think that now a MacBook Air would be all I need. Solid State Drives (SSD) still haven't really come to the PC world, but are transforming the usability of the Macs. The iPad is also a game changer, and we are not far away from a day when most domestic users will find a tablet computer everything they need. And if the IOS eco-system continues to eschew complexity, it will mean a much diminished need to IT Support services, beyond the maintenance of the essential plumbing of broadband and wifi.
### Future Work
I'm maintaining my website business and intend to be able to focus more on the needs of those clients in the future. I'm going to resist taking on new clients in the short term so that I can make sure service the existing clients needs, and take a little time to refresh my skills and choose the right platform for new web projects. I also have some ideas for web-based services and iPhone/iPad apps that I'd like to be able to take forward. I've done a reasonable amount of work on iOS over the last year or so, but keep getting pulled away from it for other work such that I don't have the momentum necessary to take ideas to completion. Hopefully the break will help to re-establish the focus necessary.
### Travel, Adventure and Exercise
The immediate future is one of discovery. We've taken the plunge and invested in a motorhome that will allow us to travel over the winter.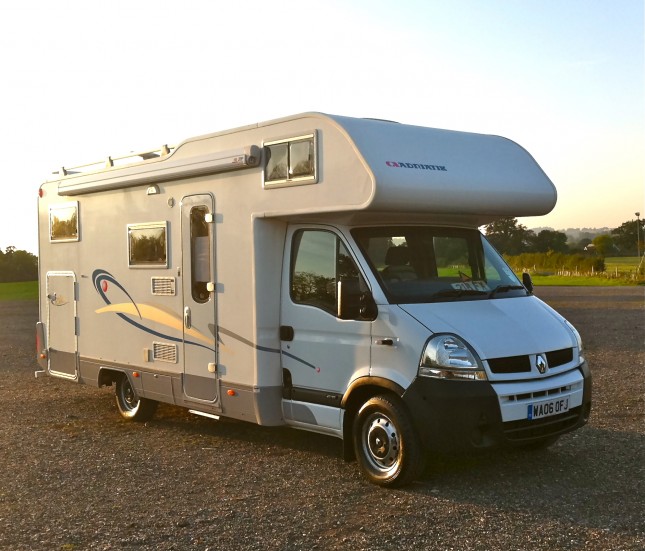 Mel wanted to get away from sculpting in a freezing workshop over the colder months, and so we have been planning at least on an apartment in Spain for a few months. The motorhome was also a medium-term aspiration (sorry, but don't want to wait for retirement for the opportunity!) and an interesting adventure and challenge. I'm going to combine it with some extensive cycle exploration, taking advantage of the milder southern-european climate. I've done a couple of great tours this year, but alas found little time for day rides, and want to correct that. The motorhome is a great excuse, because you won't want to be moving it all the time just to go to the shops, so I see the bike becoming a daily feature for moving around and exploring the areas we choose to stay in.
Although the broad intention is to make our way to Spain (The Alpajurras, south of Granada and the Sierra Nevada's) because we'll be able to enjoy some winter sun and skiing, with the motorhome we now have the ability to let the weather decide where we go. We are likely to take several days just to cross France (unless it is foul), and can even see the opportunity to divert to Italy rather than Spain if we think it worthwhile. The world is almost our oyster!
We'll be back in late February as Mel will have exhibitions, and then I intend to set about making progress on the renovation of the house, so that we don't have to worry about that when I need to be focussing more on building up a decent income stream.
### Conclusion
Most PC's take an hour or two to reboot, reinstall and reconfigure, but I suspect that for the next year I'll be a work in progress. I'll keep writing here, and will be giving this site something of a renovation before too long as well.